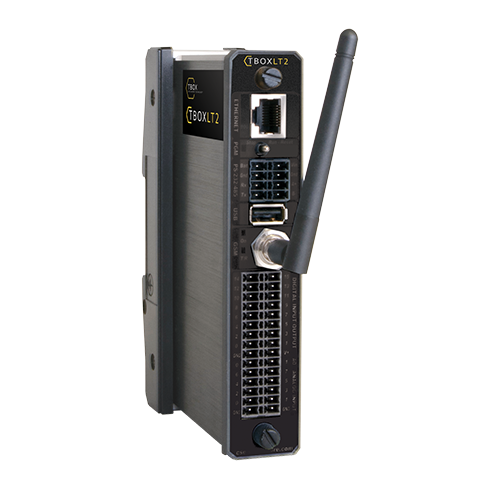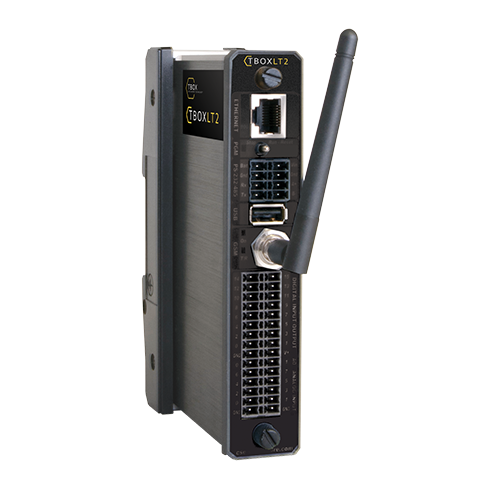 description
Additional Information
Documents
TBox LT2 RTU remote maintenance
The TBox LT2 is an all-in-one web-enabled RTU for automation and monitoring applications.The TBox LT2 is a powerful, standalone remote telemetry unit with the versatility for almost any remote monitoring and control application.Thousands of TBox LT2 units are deployed around the world to control building systems at world famous landmarks, monitor broadcast transmissions to millions of people, and monitor the supply levels of critical commodities such as oil, gas and water.The TBox LT2 RTU integrates advanced automation, web server technology, alarm notifications and data logging with Ethernet and wireless communications into a single, robust module.With the TBox LT2, all remote assets and processes are under your control and within reach.Innovative push and multiplatform web server technologies open up new possibilities.Users have full access to alarms, live conditions and historical data on their mobile devices, tablets or PCs - anytime, anywhere.This self-contained system gives you everything you need to create powerful yet economical automation and monitoring installations.Key features of the TBox LT2 include:
Integrated web server technology eliminating the need for complex SCADA software and costly HMI displays.
Integrated wireless communication that allows full access to alarms, live conditions and historical data on your mobile device.
Integrated cybersecurity suite with cutting-edge authentication and encryption technology.
Push notifications via e-mail, FTP and SMS as well as sophisticated alarm management.
A rugged design that withstands the harshest environments and is approved for Class 1, Division 2 hazardous locations.
16 digital inputs or outputs, eight analog inputs and two analog outputs.
3G cellular, Ethernet, USB, RS-232, RS485, and serial communications are supported.
Modbus, DNP3 and IEC 60870-5-104, SMTPS, DynDNS and NTP protocols and many others are supported.
Advanced logic processing.
Easy to configure alarms.
User-friendly configuration via the TWinSoft configuration tool.
Additional information about the product TBox LT2 RTU remote maintenance
Manufacturer: Ovarro LD Ltd
More information on TBox LT2 RTU
| | |
| --- | --- |
| LT2-530 | TBox LT2 + ETHERNET + 1 RS232 + 1 RS485 + 1 USB 2.0 port: full TBox features: PLC+WEB+RTU - power supply 8.30VDC & backup (lead acid) battery charger, 16 digital inputs or outputs (3 DI can be used as fast counters), 8 analogue inputs 4-20mA or 0-10VDC - No isolation |
| LT2-530-4W | TBox LT2 + ETHERNET + 1 RS232 + 1 RS485 + 1 USB 2.0 port + penta bands LTE (4G), seven bands UMTS/HSPA+ (3G) and quad bands GPRS/EDGE (2G), worldwide.Full TBox functions: PLC+WEB+RTU - power supply 8.30VDC & backup (lead-acid) battery charger, 16 digital inputs or outputs (3 DI can be used as fast counters), 8 analogue inputs 4-20mA or 0-10VDC - No isolation |
| LT2-532 | like LT2-530 (Ethernet) with + 2 analog outputs (4-20mA) on the IO number |
| LT2-532-4W | like LT2-530-4W with + 2 analog outputs (4-20mA) on the IO count |
| LT2-540 | TBox LT2 + ETHERNET + 1 RS232 + 1 RS485 + 1 USB 2.0 port: full TBox features: PLC+WEB+RTU - power supply 8.30VDC & backup (lead-acid) battery charger, 16 digital inputs or outputs (3 DI can be used as fast counters), 2 Pt1000 inputs, 6 analogue inputs 4-20mA or 0-10VDC - No isolation |
| LT2-540-4W | TBox LT2 + ETHERNET + 1 RS232 + 1 RS485 + 1 USB 2.0 Port + Penta Bands LTE (4G), Seven Bands UMTS/HSPA+ (3G) and Quad Bands GPRS/EDGE (2G), worldwide.Full TBox functions: PLC+WEB+RTU - power supply 8.30VDC & backup (lead-acid) battery charger, 16 digital inputs or outputs (3 DI can be used as fast counters), 2 Pt1000 inputs, 6 analog inputs 4-20mA or 0-10VDC - No isolation |
| LT2-542 | like LT2-540 (Ethernet) with + 2 analog outputs (4-20mA) on the IO number |
| LT2-542-4W | like LT2-540-4W with + 2 analog outputs (4-20mA) on the IO count |
| LT2-562 | TBox LT2 + ETHERNET + 1 RS232 + 1 RS485 + 1 USB 2.0 port: full TBox features: PLC+WEB+RTU - power supply 8.30VDC & backup (lead-acid) battery charger, 24 digital inputs or outputs (3 DI can be used as fast counters), 1 analog input 4-20mA or 0-10VDC, 1 analog output 4-20mA - No isolation |
| LT2-562-4W | TBox LT2 + ETHERNET + 1 RS232 + 1 RS485 + 1 USB 2.0 Port + Penta Bands LTE (4G), Seven Bands UMTS/HSPA+ (3G) and Quad Bands GPRS/EDGE (2G), worldwide.Full TBox functions: PLC+WEB+RTU - power supply 8.30VDC & Backup (Lead-Acid) Battery Charger, 24 Digital Inputs or Outputs (3 DI can be used as fast counters), 1 Analogue Input 4-20mA or 0-10VDC, 1 Analogue Output 4-20mA - No Isolation |
Documents for the product TBox LT2 RTU remote maintenance
Product brochure TBox LT2 RTU remote maintenance
Product brochure TBox LT2 RTU remote maintenance
Overview TBox LT2 RTU remote maintenance