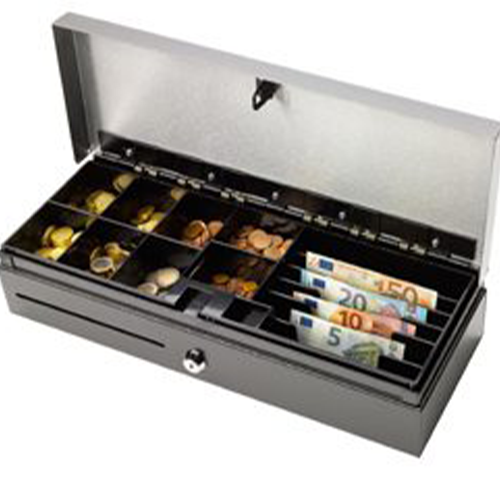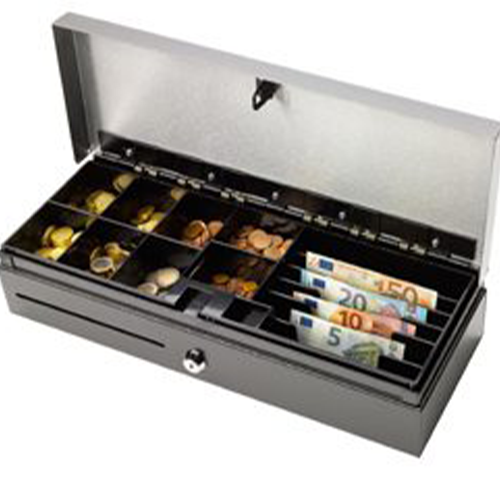 description
Additional Information
Documents
Electric cash drawer with spring cover - 46 ES-LT-KE(-D)
Mogler cash drawers with electromagnetic release can be controlled in many ways. Possible control variants are: on the PC: serial, parallel, USB; at the receipt printer: e.g. Epson, Star; on POS systems: IBM, Wincor, Vectron, ADS; at cash registers: e.g. Sharp, Casio; or on scales: e.g. Mettler, Bizerba.
The cash drawers can be equipped with a so-called status query according to user requirements. A checkout process must then be completed by closing the cash drawer in order to be able to start a new one.
Suitable areas of application are all POS workstations that are equipped with a PC, a POS system, a printer or scales.
Features Electric Cash Drawer with Spring Cover - 46 ES-LT-KE(-D)
Technical data:
dimensions:
width: 460 mm
depth: 170 mm
height: 100 mm
Standard equipment:
removable till insert
with lockable cover
8 coin trays
6 standing banknotes
Version electric cash drawer with spring lid - 46 ES-LT-KE(-D)
Options:
Lid optionally in stainless steel (linen/ brushed/ grained leather)
Coin insert:
8 coin wells
Banknote compartments:
6 standing banknote compartments
Checkout inserts:
KE 46-LT
The checkout insert KE 46-LT offers plenty of storage space with compact dimensions. After completing the cashier's work, the KE 46-LT can be locked in the cash drawer, removed and deposited in the safe.
Additional information on the product el. cash drawer 46 ES-LT-KE(-D)
Supplier: Mogler-Kassen GmbH
Scope of delivery: see standard equipment. The cover (-D) - if present on the model - is included in the price. Please inquire about optional or other equipment.

Delivery costs: Unless otherwise stated, the current delivery costs for Mogler-Kassen GmbH products in Switzerland are CHF 80.00 excl. VAT. This product cannot be picked up from us.
Type checkout
electric register
Opening type checkout
Jump Cover
Options checkout
-
Coin box till
8 coin compartments
Notes compartment register
6 music fans standing
Order elements checkout
-
-
Documents for the product el. cash drawer 46 ES-LT-KE(-D)
Please ask us for the data sheet.