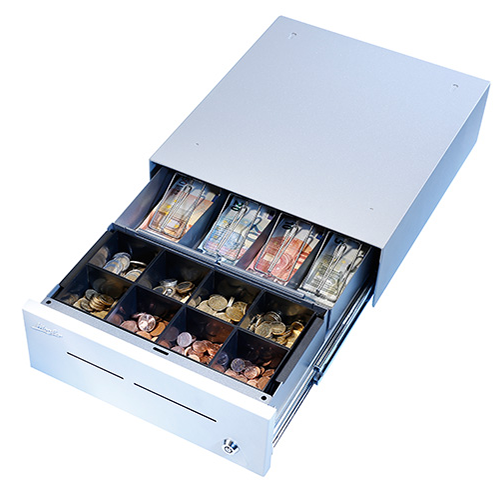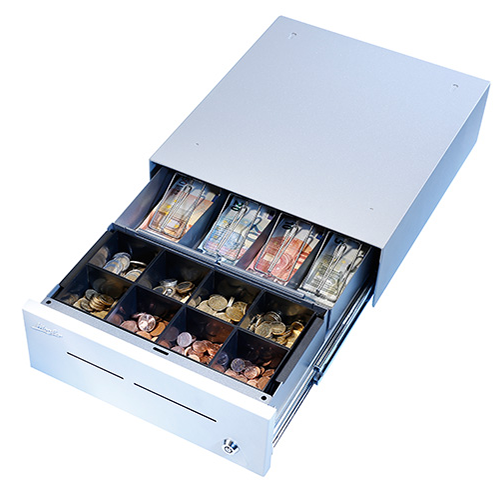 description
Additional Information
Documents
Mechanical Cash Drawer - 34 D-KE-K
Mogler cash drawers with pressure locks are purely mechanical drawers, identical in construction to the cash drawers of the E series. They open by pressing against the front piece. The cash drawer has a cylinder lock to prevent unauthorized access. Thus, the model series D is also a safe means of storing money.
Suitable areas of application are checkout workstations without a checkout system or power supply, which are staffed at all times and are monitored by electronic devices.
Features Mechanical Cash Drawer - 34 D-KE-K
Technical data

mass
Width: 340mm
Depth: 400mm
Height: 118mm
Standard equipment

8 coin wells
4 standing banknotes
removable till insert
Execution mechanical cash drawer - 34 D-KE-K
Options

optionally with electromagnetic release
Coin insert

8 weighable single coin recesses
optional INKiESS
Banknote compartments

Cash register inserts

The till insert can be put together, closed and removed with the comfortable carrying handle.
AdvancedDescription
Additional information about the product mech. Cash drawer 34 D-KE-K
Supplier: Mogler-Kassen GmbH
Scope of delivery: see standard equipment. The cover (-D) - if present on the model - is included in the price. Please inquire about optional or other equipment.

Delivery costs: Unless otherwise stated, the current delivery costs for Mogler-Kassen GmbH products in Switzerland are CHF 80 including VAT. This product cannot be picked up from us.
AdvancedDescription
Documents for the product mech. Cash drawer 34 D-KE-K
Please ask us for the data sheet.