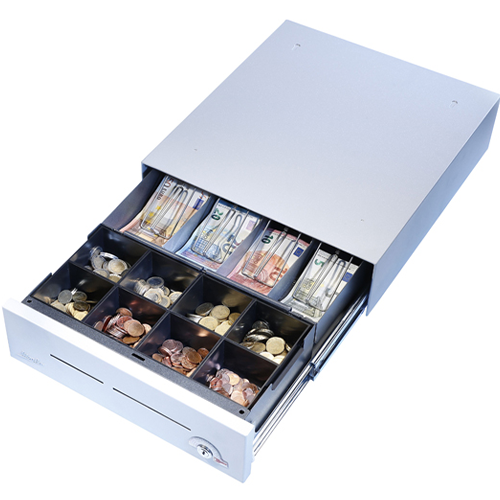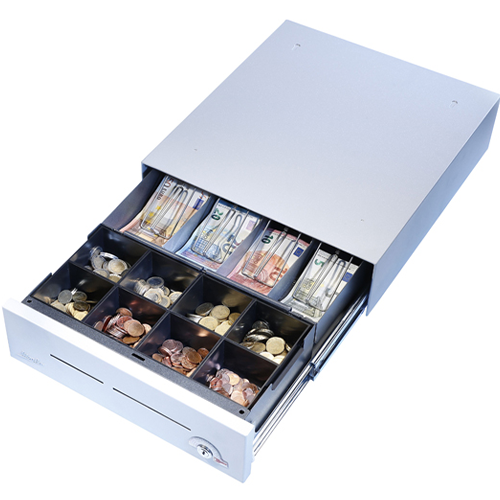 description
Additional Information
Documents
Mechanical Cash Drawer - 36 D-KE-K
Mogler cash drawers with pressure locks are purely mechanical drawers, identical in construction to the cash drawers of the E series. They open by pressing against the front piece. The cash drawer has a cylinder lock to prevent unauthorized access. Thus, the model series D is also a safe means of storing money.
Suitable areas of application are checkout workstations without a checkout system or power supply, which are staffed at all times and are monitored by electronic devices.
Features Mechanical Cash Drawer - 36 D-KE-K
Specifications:
Dimensions:
Width: 360 mm
Depth: 396 mm
Height: 108 mm
Standard equipment:
8 coin trays
4 banknotes lying flat
Options:
INKiESS MiNiKORD
weighable single coin trays
optionally with electromagnetic release
Coin insert:
8 weighable single coin recesses
optional counting board insert INKiESS EU 80
optional INKiESS MiNiKORD
Bank note compartments:
Bank note insert with 4 flat compartments
Hold-down device made of stainless steel
Cash inserts:
KE 36E-K
The till insert can be put together, closed and removed with the comfortable carrying handle.
Additional information on the product mech. Cash drawer 36 D-KE-K
Supplier: Mogler-Kassen GmbH
Scope of delivery: see standard equipment. The cover (-D) - if present on the model - is included in the price. Please inquire about optional or other equipment.

Delivery costs: Unless otherwise stated, the current delivery costs for Mogler-Kassen GmbH products in Switzerland are CHF 80.00 excl. VAT. This product cannot be picked up from us.
Type checkout
mechanical cash register
Opening type checkout
Pressure Cap
Options checkout
-
Coin box till
8 coin compartments
Note compartment cash register
4 music fans lying
Order elements checkout
-
-
Documents for the product mech. Cash drawer 36 D-KE-K
Please ask us for the data sheet.