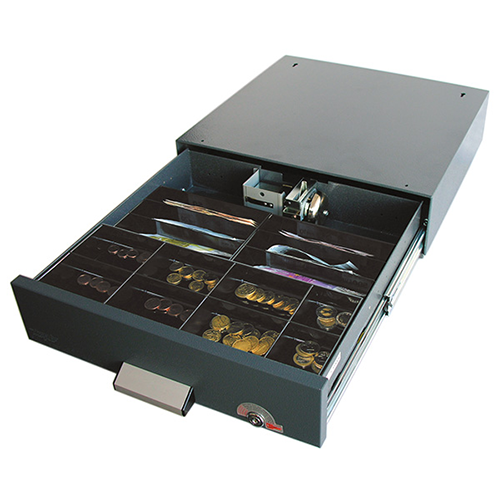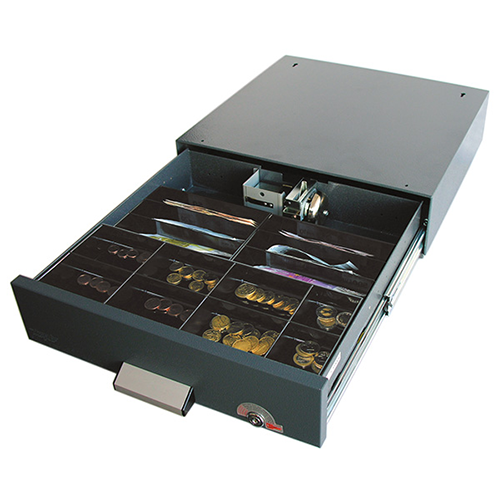 description
Additional Information
Documents
Mechanical Cash Drawer - 41 S
Cash drawers with security alarm lock
Cheater Cash Drawers with Security Alarm Lock are purely mechanical cash drawers. These have an alarm lock that is reminiscent of the principle of the Swiss numbered account. There are 4 buttons under the opening handle. In order to open the cash drawer, the correct key combination must be pressed and at the same time the drawer must be pulled out of the housing using the handle. In the event of unauthorized opening, an alarm signal sounds immediately. This is triggered by a mechanical bell. Advantage: no failure due to power/battery failure.
Mogler cash drawers with security alarm lock thus offer triple security through:
Codable key lock
Mechanically generated alarm signal
Cylinder lock
Suitable areas of application are checkout workstations without a checkout system or power supply, which are not continuously manned and are not monitored.
The management trade association certifies Mogler that the requirements for a secure exchange cash register set out in the accident prevention regulations for arcades, casinos and slot machines of casinos are fully met.
Features Mechanical Cash Drawer - 41 S
Technical data:
dimensions:
width: 410 mm
depth: 400 mm
height: 110 mm
Standard equipment:
8 coin trays
6 standing banknotes
Options:
INKiESS MiNiKORD
weighable single coin trays
max. 12 standing banknotes
Coin insert:
ME 375-8 (coin insert with 8
optional INKiESS MiNi 375
Banknote compartments:
2x BE 187-3 (banknote insert with 6 inclined compartments, can be expanded to 12 compartments if required)
Cash inserts:
TK 385
Suitable for all cash drawers with a width of: 410 (407) and 450 mm
Suitable for coin insert ME 375 and Mini 375
5 flat compartments for banknotes
Additional information on the product mech. Cash drawer 41 S
Supplier: Mogler-Kassen GmbH
Scope of delivery: see standard equipment. The cover (-D) - if present on the model - is included in the price. Please inquire about optional or other equipment.

Delivery costs: Unless otherwise stated, the current delivery costs for Mogler-Kassen GmbH products in Switzerland are CHF 80.00 excl. VAT. This product cannot be picked up from us.
Type checkout
mechanical cash register
Opening type checkout
Security Alarm Latch
Options checkout
-
Coin box till
8 coin slots
Note compartment cash register
6 music fans standing
Order elements checkout
-
-
Documents for the product mech. Cash drawer 41 S
data sheet mech. Cash drawer 41 S