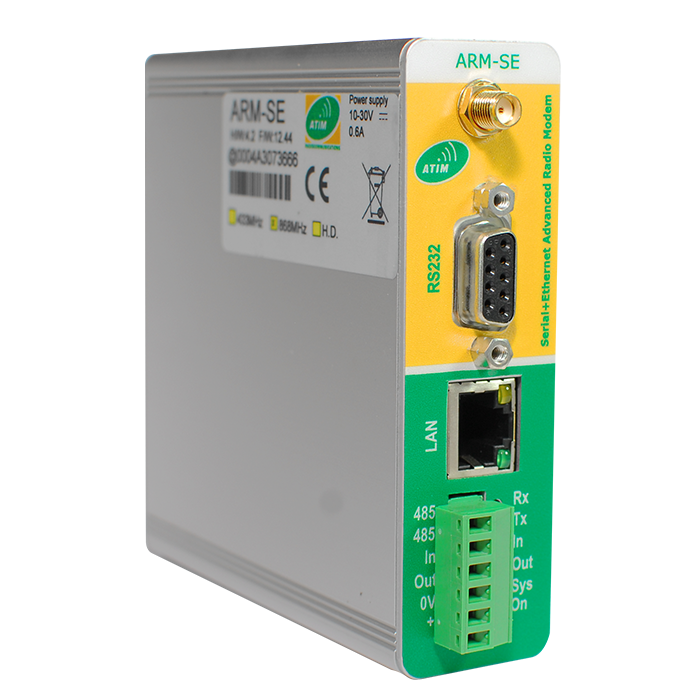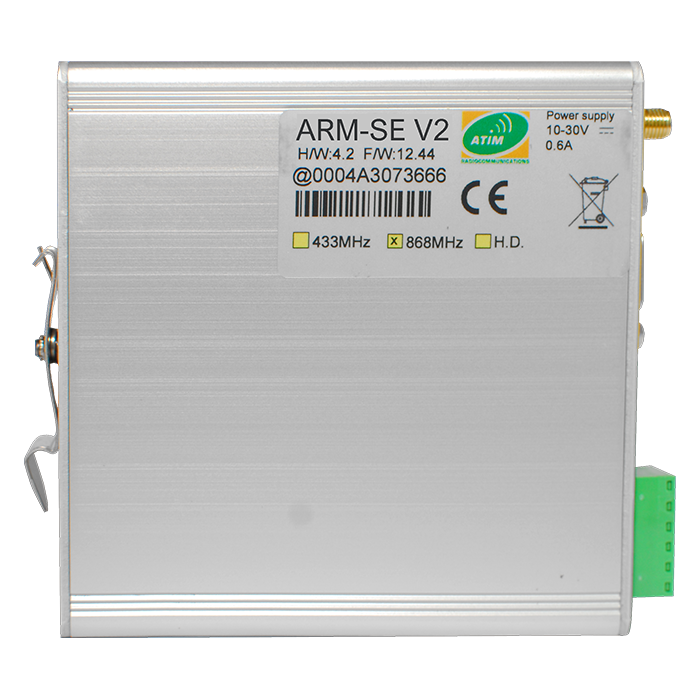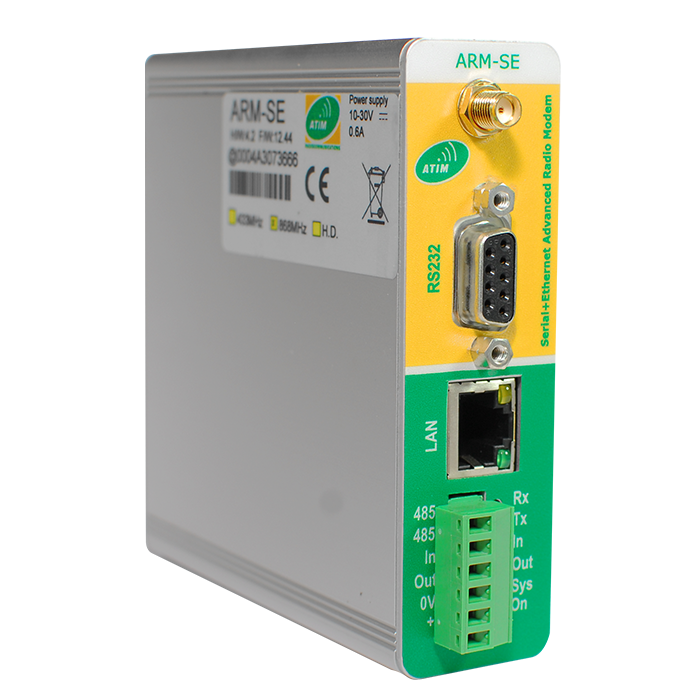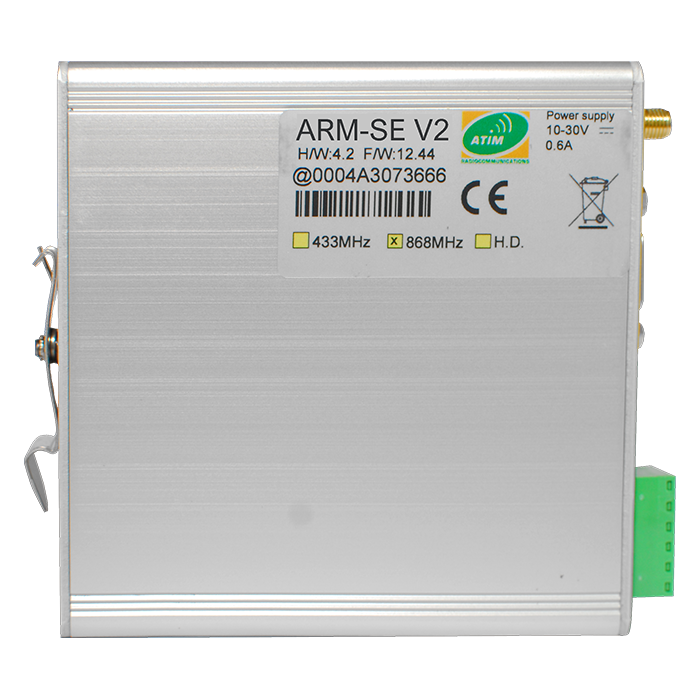 description
Additional Information
Documents
Local radio modem digital/analog I/O type ARM-SE-V2
The ARM-SE is compatible with the entire ARM range and allows access to other radio modems (remote I/O, serial port, Ethernet) via a serial port or Ethernet network.The configuration is done via the embedded website.It is used as a radio bridge between many Ethernet or RS232/RS485 devices (e.g.B.PLC) used.Thanks to the embedded ModbusTCP server, it can be a Modbus gateway between Modbus TCP and Modbus RTU.
Serial/Ethernet radio modem properties
The Ethernet ARM-SE-V2 (Advanced Radio Modem Serial + Ethernet) radio modem offers an interesting alternative to Wifi.It is well suited for a wireless connection in a long-distance noisy environment.
Applications Local radio modem digital/analog I/O type ARM-SE-V2
- time measurement, time report
- display, signs
- water management, energy
- camera control, telemetry
- quarry, mines, cement factory
- BTP, industry.
Interfaces ARM-SE-V2:

Ethernet (RJ45) 10/100BaseT
RS232/RS485 (SUBD9)
Radio (SMA) 868MHz/27dBm max or 433MHz/10dBm max
Power supply (2 wires) 10-30VCC / 6W

How ARM-SE-V2 works:

Transparent mode, serial or Ethernet
ModbusRTU mode
Modbus TCP to Modbus RTU gateway
Mirror mode with expansion cards X8800-X4404-X4440
Compatible with ACW and ARM series

Configuration ARM-SE-V2:

Via embedded web page or AT commands
Settings are saved in flash
Firmware update via Ethernet
Configuration and test mode in local and remote
3 dip switches behind the product for RS485 + 1 to enter test mode
Additional information about the product ARM-SE-V2 - Modbus Ethernet Bridge
Supplier: Atim Sàrl
model
ARM-SE-V2
ARM-SE
Overview
Dimension
105x105x31mm
Antenna
SMA connection
Temperature
-20°C to +55°C (operating)
Mounting
DIN rail
Supply voltage
+10/30 Vdc
weight
300g
Frequency
865-870MHz
433MHz or 868MHz
Transmission Strength
500mW (27dBm)
10mW @ 433MHz, 500mW @ 868MHz
Data baud rate
1.2 to 115 Kbps
Normal power consumption
Tx: 800mA/300ms, Rx: 150mA
Tx: 400mA, Rx: 150mA
radio module
frequency band
868-870MHz
433MHz, 868-870MHz
Number of channels
553
16 @ 19200 bps
modulation
2GFSK or 4GFSK
FSK
Power
5mW, 25mW, 500mW, Depends on channel
Stability
+/- 1dBm
-2/+1dBm
Antenna connector
SMA
Link
Ethernet
Isolated RJ45 10Base T
RS232
SUB-D 9 female pins
RS485
Terminal block connector
Serial Link
1200 bps to 115000 bps
Mosfet Output
+10/30 Vdc
Delay time
Modem wake-up time
3200ms
180ms
Rx/Tx and Tx/Rx turnaround
2.4ms
RS232 Rx/Tx and Tx/Rx
0ms
RS485 Rx/Tx and Tx/Rx
< 1ms
Transmission delay in Transparent Serial mode
5.6ms
Documents for the product ARM-SE-V2 - Modbus-Ethernet Bridge
User Manual ARM-SE-V2 - Modbus-Ethernet Bridge