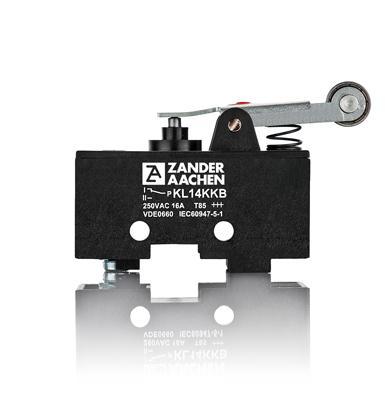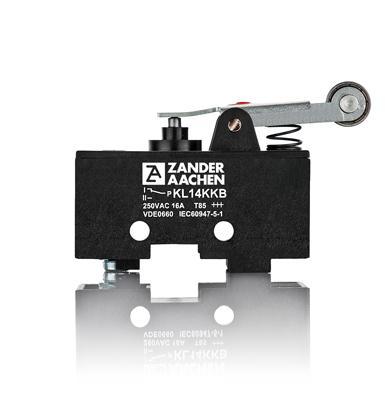 description
Additional Information
Documents
KL series: The single-pole changeover switch allows a switching frequency of 1000 operations/min. The switches are also available with additional lateral mounting cams under the designation KL..B.
MS series: Single-pole changeover contact with high switching capacity and long service life with small dimensions.
AS series: The proven design of the KL switching element is also used in the AS series. AS has a narrower design. Therefore, these microswitches are particularly suitable for limited space.
Possible applications

machine tools,
production machines,
cam controllers

Fastening

2 screws M4

Contact

1 changeover contact

switching capacity

AC -12: 16A / 250V
AC -15: 6A / 250V

connection

M3.5 screw connections

Actuator

Lever with roller

Actuating force

250cN

width x height x depth

50.5 x 26.0 x 26.5 (base element)
Additional information on the product micro switch KL
Supplier: Hermann ZANDER GmbH & Co. KG
Scope of delivery: see standard equipment. Please inquire about optional or other equipment.

Documents for the product Microswitch KL
Please ask us for the data sheet.